China style on leather bags .
Abstract:leather handbags are synonymous with fashion and luxury.When guang zhou leather bags factory VB bag made a leather bag with Chinese embroidery, Chinese ink painting ,the leather bag has a strong Chinese style .Leather bags and leather handbags have always been matched with precious furs and precious gems. They have become a luxury for people to pursue, and they have a sense of elegance and luxury. When the extravagant style of leather bags and leather handbags intensified, the Chinese style infused leather with a warm, delicate spring.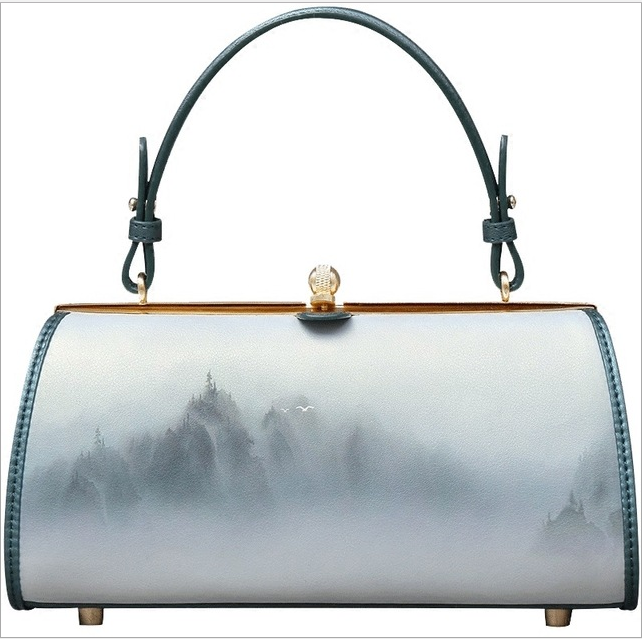 Chinese embroidery is one of China's outstanding national traditional crafts and is China's national essence. Embroidery is widely used in clothing and art.Embroidery has been used on high-end cloth bags and silk handbags for a long time. It is used in leather handbags and leather bags only in recent years .China bags manufacturer cooperates with customers to produce and process high-quality Chinese embroidery leather handbags and leather bags.Printing patterns on leather bags,leather handbags ,namely printed leather bags, printed leather handbags, is no longer a new thing, such as the strong girly style Korean Lu Xinyuan bags.Of course, many of Europe's most famous brands of leather goods, bags, handbags have printed series .They are either abstract or full of personality.For printing bags ,we Chinese put ink printing which contains Chinese culture and have thousands of years of history, on leather bags and handbags.
When compared with Chinese ink painting style ,the girly style ,abstract style ,personality style all seem a bit tacky.Leather bags and leather handbags belong to the family of luxury goods.When they match the atmosphere and elegance of Chinese ink painting, they have an artistic connotation above the luxury.
Guang zhou bags supplier VB bag hopes that more and more people would like Chinese style leather handbags and leather bags .